Las Vegas is known for its vibrant nightlife and bustling casinos. However, it also hosts numerous conferences every year, such as the 2023 National Fire Protection Association (NFPA) Conference. As a Facilities professional, I decided to attend this conference, and it was an enlightening experience that expanded my understanding of building safety.
This year's NFPA Conference was held at the Mandalay Bay Convention Center, a venue as grand as the city itself. It is humbling to walk through the cavernous halls and conference rooms due to the scale of the property both in size and operational requirements. Although my work doesn't directly involve fire protection, the conference offered a wealth of knowledge on safety-related topics that are universally applicable across professions and geography.
The journey to Las Vegas was almost smooth, with a delayed flight from McAllen, Texas, and a brief layover at Dallas-Fort Worth, where I had the opportunity to visit the American Express Centurion Lounge while waiting for a delayed connecting flight. I also had the chance to visit the Centurion Lounge in Las Vegas before my return flight. My return home was almost uneventful. I experienced my first delayed luggage incident. Fortunately, I have recovered my baggage.
I chose to stay at the Club Wyndham Grand Desert Resort, a decision that proved to be both economical and more comfortable. The one-bedroom condominium provided a homely atmosphere, which is a welcome change from what hotel rooms typically offer. The only disadvantage with staying at the resort was the distance to the Convention Center, which required short daily Uber rides.
The conference was a whirlwind of learning. My main focus was to add to my basic knowledge of fire protection. I attended several sessions, each providing unique insights into different aspects of safety. From understanding the human impact of mass violence response efforts to the value of NFPA certifications, each session was a deep dive into the world of safety and fire protection. It is possible that to the seasoned fire protection professional these were very basic sessions. However, to my limited experience, they were highly technical and enriching.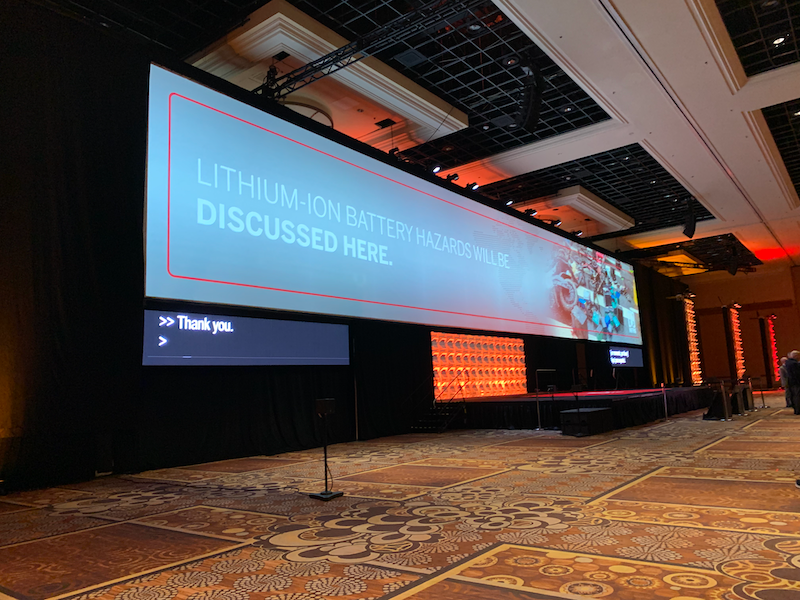 One of the most eye-opening sessions was on energy storage systems (ESS). It was a basic introduction, but it highlighted the dangers inherent in these systems and the challenges firefighters face when dealing with fires at these sites. It was a stark reminder of the importance of safety measures and standards in our rapidly advancing technological world. I was surprised to learn that the best option is often to allow an ESS unit to burn down rather than try to put it out. The owners of these systems accept that each failed unit must be completely replaced rather than salvaged. The risk of attempting to put out the battery fire is greater than the danger of letting it burn itself out.
Although I was not looking to network with anybody at the conference, I did make an interesting connection. I met the CEO of a company that manufactures fire alarm systems and integrates them to Building Management Systems for buildings in the Middle East, Europe, and South America. Our discussion on the integration of fire alarms and building management systems was insightful and sparked new ideas for my own facility. I'll be sending him a thank-you email when I return to work.
Other sessions I attended included discussions on solar system safety standards, pipe corrosion, a deep dive into the use of water curtains in building design, fire alarm contractor shortcuts that lead to violations, ground fault circuit interrupter standards, fire rating maintenance, and electrical system maintenance. In addition, they had an expo for a number of vendors selling fire-safety products.
The NFPA conference was not just about learning; it was also about applying that knowledge. The insights gained from the conference have inspired me to consider becoming a member of NFPA and exploring the resources available for certification. It's an opportunity to enhance my skills and potentially pivot my career towards a greater focus on safety.
In conclusion, the 2023 NFPA Conference in Las Vegas was an enriching experience. It was a deep dive into the world of safety and fire protection, providing valuable insights and networking opportunities. It's an event I look forward to attending annually, and I highly recommend it to anyone interested in enhancing their understanding of safety standards. Next year's NFPA Conference will be held in Orlando, Florida, which is another great city that hosts numerous conferences.