Our 2021 family vacation took us to Ruidoso, New Mexico. We had never heard of the place prior to planning our trip. We chose to stay in Ruidoso because it is in the portfolio of the timeshare we purchased. Although it is possible to get great deals from RCI Last Call Vacations, they are often only for single bedroom accommodations, which is fine if Mrs. TWM and I are traveling alone. However, with a family we need 3 bedrooms. Therefore, booking early is important. Our objective this year was just to get out of South Texas and relax. Ruidoso seemed adequate. We discovered that it is more than adequate. 
Driving To Ruidoso, New Mexico
Our trip began from South Texas. We live close to the Rio Grande near the bottom tip of Texas. Traveling anywhere in the USA requires serious commitment from our part. Reaching Ruidoso is a 12 hour drive, if you do nothing but drive. 10 of those hours are just driving out of Texas. Mrs. TWM and I prefer to not drive to exhaustion. We will plan our trips with 8 hour drives and rests in between. Eight hours from South Texas gets us to Fort Stockton, Texas. We booked a three bedroom AirBnB to spend the night before continuing on our way to Ruidoso. 
The next morning, we had breakfast and resumed our trip to Ruidoso. The drive would take us through Pecos, Texas, Carlsbad, New Mexico, and Roswell, New Mexico. Much of the land in between is empty and almost barren. It is miles and miles of empty highway and treeless landscape. Most of what you see are oil tanks and nodding donkey pumpjacks extracting oil tirelessly. 
Carlsbad, New Mexico has some of the largest caverns open to the public. We considered visiting. However, walking 2 miles underground would take some time that we could not afford to lose. So, we drove through Carlsbad. 
We did, however, stop at Roswell, New Mexico. Roswell is known for being near the site of an alleged UFO crash. So, most of the tourism is aimed at attracting UFO enthusiasts. There are shops with alien-themed souvenirs and places where you can take a photo with aliens. We stopped to shop for some souvenirs to bolster our geek cred. 
Roswell is the point where you start to see some distinction between the stark emptiness and a habitable location. Roswell has trees and greenery in contrast to the surrounding land to the south.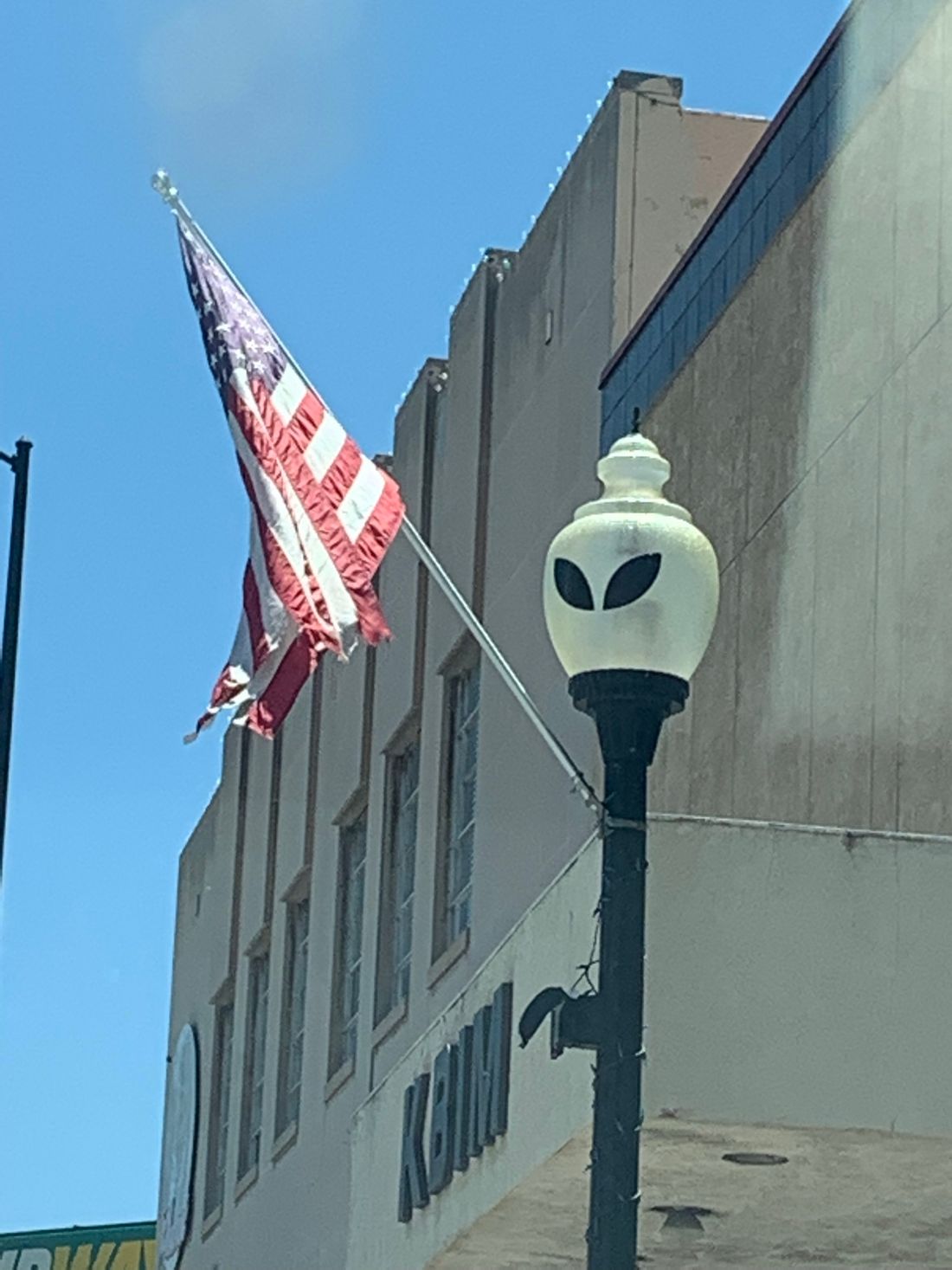 The final leg of the drive between Roswell and Ruidoso is where you notice a growing difference in the terrain. Roswell marks the end of the rolling hills and the start a transition to mountainous terrain. The drive between Roswell and Ruidoso is a difference between 3600 feet above sea level to 6800 feet above sea level. It was a challenge for our little old Prius. The terrain grows more mountainous as you progress.
Arriving At Ruidoso
Arriving at Ruidoso from Roswell is a bit of a letdown. You have the main highway and retail locations. However, there isn't much to see beyond that. This is partly because you are surrounded by mountains, which block your view of the surrounding countryside. 
Arriving at our condominium was the final part of the trip. But, surprisingly, it is located near the top of a mountain as well. The climb is from 6800 feet to 7400 feet on a winding road. The payoff, however, was the great view from our balcony. 
We were glad to know that we would be staying there for 7 days. This was not quite what we were expecting when we booked the lodging. 
Our first trip out was to buy groceries. The benefit of not staying at hotels is that you have your own kitchen and laundry to manage your stay more affordably. Generally, timeshares can be a large cost. However, the more you use them, the greater the savings you can realize in your travel. Mrs. TWM and I, for example, can imagine retirement by moving from resort to resort in much the way that some people spend their retirement years on cruise ships. But, that's another blog post. 
The first night, we were mostly interested in resting from the drive. We wasted the first full day, a Saturday, by not knowing where to go. We looked at tourist brochures and websites. Many attractions took us out of Ruidoso. My interest was to go hiking. But, I could not find information on how to get to the trails. The trails are on the maps. But, there was no description on how to access them. 
Another challenge is that when traveling with a toddler, you have to schedule a nap time into your activities. You can make the child go nonstop. However, he or she will eventually grow weary and have a meltdown. 
Sunday, we did not do anything. Most towns in the USA shut down on Sundays. In larger cities, you will find places open seven days per week. However, small towns typically do not. There was no point trying to explore on a Sunday. We were content to schedule use of the swimming pool on the property, which we did several times during our stay. 
Hiking In Ruidoso
Monday, we did venture out to try to find hiking trails. We learned that Ruidoso was where Smokey The Bear was born. If you aren't familiar, Smokey the Bear is a cartoon character that warns people to be careful to not start forest fires. Ruidoso is located near the Lincoln National Forest. 
It was after discovering the Smokey Bear Ranger District that we found a place to access hiking trails. There is a road that has access points for the trails and picnic areas. The trails are marked for their degree of difficulty. We started off with the Fitness Trail, which is an easier trail geared towards runners and low-intensity hikers. 
We would visit the trails two more times during our stay in Ruidoso. On one of the visits, we did attempt a more challenging trail. This trail had more climbing and descending. Some of the climbing was steep. In terms of a workout, the more challenging trail was on task. 
Given more time, we might have attempted all the trails. Part of the fun of hiking, besides the exercise, is discovering new terrains and places. 
Ruidoso Village
In order to find the Smokey Bear Ranger District, we had to drive through downtown Ruidoso. This is where we saw the attraction for the area. There are numerous cabins, shops, restaurants, and places to visit around the downtown area. 
We would obviously want to make time to walk around and do some shopping. There are shops for candles, soaps, jewelry, clothing, and even a shop for pet accessories. We made a stop at a candy and ice cream shop during one of our downtown visits. We also discovered Cafe Rio Pizza, which has some excellent items on the menu. We have decided to make Cafe Rio Pizza a family favorite. If ever we go back to Ruidoso, this will be a place we visit. 
Our trip to Ruidoso, New Mexico was an accidental discovery. We have left the place wanting to stay and explore some more of what it has to offer. There are casinos, skiing, kayaking, and all manner of outdoor activities that we did not have time to explore. Mrs. TWM is in agreement that we must go back someday. With that endorsement, I can safely say that if you are traveling in New Mexico, you must visit and spend some time in Ruidoso, New Mexico. 
What I love about the place is that there is much to do. But, there is no rush to do anything. It is such a laid back destination where people go to have fun. But, there is nothing pushing you to try this or try that. You simply stumble upon things to do while enjoying the natural beauty of the land.